We want to help your little one learn from home; so we've
cut our prices in half!
Want to make sure that learning to read and write is a highlight of every day?

Phonics in Motion helps educators and families teach kids in a fun, interactive, and multi-sensory way.
Want to make sure that learning to read and write is a highlight of every day?

Phonics in Motion helps parents teach their kids how to read in a fun, interactive, and STRESS-FREE way.
Want to make sure that learning to read and write is a highlight of every day?
Explore a sample lesson to see how Phonics in Motion helps teach kids how to read & write in a fun, multi-sensory, child-like way.
Want to make sure that learning to read and write is a highlight of every day?
Phonics in Motion helps parents teach their kids how to read in a fun, interactive, and STRESS-FREE way.
Phonics in Motion© (PIM) was made for educators and families who want their little ones to become great readers and writers, while never sacrificing their inner child. 
Yes, they will learn to read just fine with any decent program, but they will not fall in love with reading the way they do with Phonics in Motion. Instead of teaching language rules that are hard and stressful for kids to remember, I now have a story for everything I teach. I use PIM in my Kindergarten classroom and at home with my own kids... and they practically beg for more reading and writing time. I no longer have to work to capture their attention, they are engaged and so eager for the next time the monster will appear, or the next time that /th/ sticks its tongue out. It's also the most comprehensive early literacy method that I have ever come across.
- Gina Palazzo, PIM Kindergarten Teacher & mama of two.
Are you looking to support your child in their reading and writing journey?  Want to play an active role in their learning?
With PIM, teaching quickly turns into quality time; not stressful sit-downs that you have to somehow get through. 

Trusted and loved by professional educators, Phonics in Motion is available for families for the first time ever!
---
Want to be the most creative teacher in the building? Want to see your students excel?
Phonics in Motion integrates into authentic experiences enabling you to develop literacy organically throughout the day and can be used as a stand-alone literacy program, or to bring other curriculums to life; ensuring your learners have fun, multi-sensory learning opportunities, regardless of the curriculum you may be required to use.
My grandson was struggling. I am a school principal and the tools I had still weren't what I needed to gain his interest and remove his stress around reading. I knew I needed to focus on phonological awareness, but I wasn't sure how. PIM changed everything for us... literally turning his frown upside down. I work with him weekly with Phonics in Motion and the progress he has made is remarkable. Having what I need to teach him, while also having that time be meaningful and enjoyable quality time has been such a gift. I am forever grateful.
PIM Grandma & School Principal
I am a literacy coach trained in PIM. Watching the way even my most experienced teachers have adopted and benefited from PIM has been amazing. Teachers are constantly bombarded with something new, and it is rare to find something that they all actually get excited to spend time learning. Most importantly, it works, and our families have reported that their children love coming home to show them the motions and teach them all about the PIM characters they know and love.


Literacy Coach at Euclid Schools
I love the Vowel House. I finally have a way to teach phonics in a systematic way that is also fun - and easy enough for me to understand and feel confident in. We started with the KMPs in preschool, and now we're in first grade working with the Vowel House. Each vowel and all of the spellings have a KMP, so it is very familiar and always multimodal. This program is so integrated and I know that is a key reason my kids are excelling (and they LOVE their PIM time).
Homeschool Parent
Proven Approach, Rooted in Phonological Awareness
Phonics in Motion combines
visual, auditory,
and
kinesthetic
learning experiences to develop young readers and writers, in a way that honors their inner child.
We're on a mission to do two things:
1 Offer a foundation for the development of a life-long love of reading. PIM captures the energy and imagination of little ones, engaging them in natural interaction and exploration of language.
2 Provide the tools and knowledge needed for adults (teachers and families alike) to be powerful in their teaching of early literacy, in fun and child-like ways.  PIM offers a solution that delivers for the teacher and the student: based in science, rooted in Phonemic Awareness, connecting all pillars of early literacy explicit instruction, delivered in an authentic way.
THE FOUR COMPONENTS OF PIM

PIM is intentionally designed to provide multi-sensory speech, reading, and writing skill development in a connected way.  Being a PIM teacher means knowing how to teach learners how to connect the dots between phonemic awareness, phonics, fluency, vocabulary, and comprehension. Being a PIM learner means you equate learning and fun as one and the same.
The four components fit together in a delivery strategy that is so much fun that kids look forward to reading and writing. PIM's powerful movements, motions, and stories effectively develop literacy skills through authentic language experiences.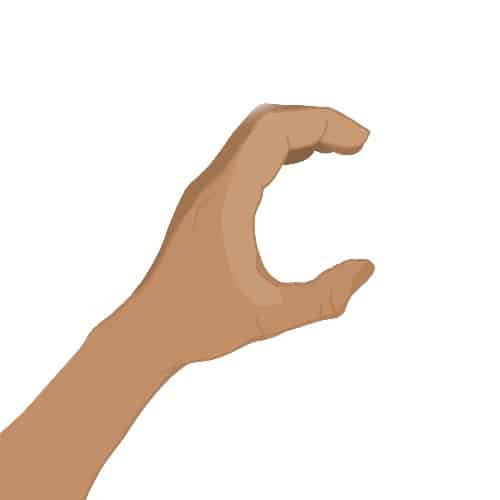 Kinesthetic Motion for Phonemes
PIM is built on a foundation of phonemic and phonological awareness, teaching sounds before letters. The KMPs are just as mighty as they are fun. The KMPs provide critical information to the learner about how each sound (phoneme) in our language is produced by the body. Teachers can see what each learner is perceiving -- even in a group setting with varying skill levels.
Learn More
about the KMPs
Feel It, See It, Hear It... & MOVE with it!
The KMPs offer an incredible foundation for the long-term learning and mastery of reading and writing, and they are used with all of the other PIM components.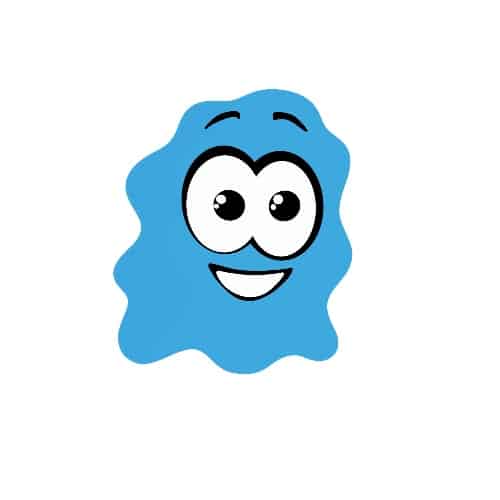 Reading & Writing Monster
Letter ID, Stroking & Directionality

The Reading & Writing Monster is a fun-loving character placed on the left of any writing surface. It develops directionality and has a story to tell about every letter, teaching proper letter stroking and left to right directionality as learners stroke towards or away from the monster. The KMP (sound) that goes with each letter is embedded in each monster story for speech to print matching.
Meet The Character that Children LOVE
Sample Handwriting
Monster Story Video

Can you see how this story would help a child remember how to write this letter?
Is it more fun than tracing a letter over and over?
Can you HEAR where you would use the KMP in the story -- Matching the letter to its sound?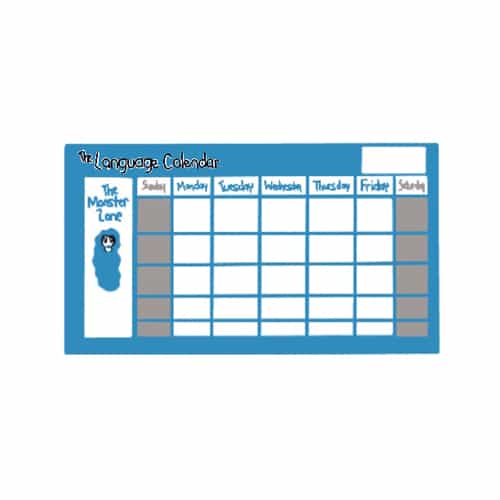 The Language Calendar is a structure for modeling written language daily. As the teacher, you discuss how letters, sounds, words, grammar, and punctuation work in the English language. As you model written language, the KMPs, the Reading & Writing Monster, and all of the PIM stories are used to create a sort of magic that kids become in awe of. Teachers use the LC to deliver concepts of print and state standards.
See The Language Calendar In Action!

A Language Calendar Entry Using KMPs & A Handwriting Story

This is to help engage learners in discussion about language.
Remove stress and show them first; and involve them in your thought process!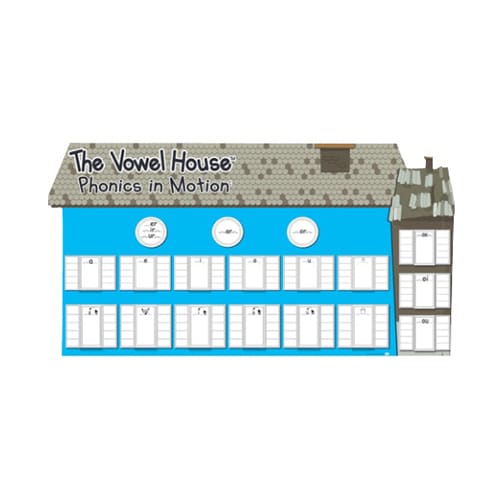 Vowel Sounds & Alternate Spellings

The Vowel House is a graphic organizer that will soon be your new home for phonics instruction. Your learners won't know that though; they'll be engaging with the characters who live in each window as they learn the sounds that each vowel makes, along with the primary and alternate spelling patterns for that sound. The VH becomes a reference guide to support first graders & up as they develop their analytic decision-making skills related to spelling.
Learn More About
The Vowel House
Let's Bring a Word From the LC to the VH!
You'll soon be asking: "What do you hear? What window does this word go in?"
THE IMPORTANCE OF PULLING IT ALL TOGETHER

Curious about the impacts of Phonemic Awareness vs. Phonics? The Science of Reading outlines the importance of explicit instruction in Phonemic Awareness, Phonics, Vocabulary, Comprehension, and Fluency. Equally important, however, is the critical piece of pulling these components of early literacy together as you teach. PIM offers you just that. Phonics in Motion prevents siloed teaching with each component overlapping into the next. See how PIM makes it easy for your students to make those critical connections, in a FUN and multi-sensory way. 
Phonics in Motion will give you the knowledge and tools you need to develop strong readers and writers, in a fun and authentic way. Enjoy and have FUN! 
We'd love to see you and your little one in action!
Share with us #phonicsinmotion